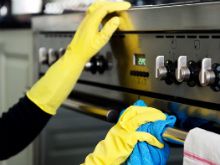 You love cooking? Well, then undoubtedly you use your oven appliance a lot. Without a doubt, you are aware that you should clean it every now and then, but let us ask you a question – can you really declare your oven sanitary? We do not think so.
According to leading oven manufacturers, cleaning the oven is of essential importance to the healthy condition of all family members. On top of that, regular oven maintenance is also linked with extended lifespan of the appliance. Thus, keeping your oven clean will not only be beneficiary for all family members, but also for the appliance itself. Knowing how expensive ovens are, we think that you should not miss any chance to extend the durability of your appliance.
Okay, you clean your oven regularly, sacrificing hours and hours of your time in a desperate attempt to eliminate burnt on grease and grime from the walls and bottom of the oven. Yet, this is far from enough to keep the appliance in an utmost condition.
Oven manufacturers say that there are areas inside the oven which a person lacking the equipment and knowledge necessary for a good oven cleaning can not reach when they clean their appliance.
Our Oven Cleaning Services are Reliable and Trustworthy
Those same areas, however, must be kept in an excellent condition in order to keep the appliance in a sanitary condition and not to decrease the quality of the cooked in it. Those areas, oven manufacturers say, can be reached by professional cleaners' equipment.
To sum up, you ought to keep your oven sanitary, but unless you are armed with high quality cleaning products, you will not be able to keep it in a perfect condition. That is why you need us.
With years of experience in the field of oven cleaning, we at City Cleaners London offer you affordable oven cleaning services available for booking throughout the week and also on bank holidays as well. Choose us to clean your appliance and the results will amaze you.
City Cleaners London are experienced and armed with highest quality cleaning products. Our services can be performed in London. Choose us and the results will exceed all of your expectations.
Choose us and your oven will look like brand-new.
Thorough cleaning of the oven using only environmentally friendly cleaning products
Professional treatment of your oven performed by a certified expert
Paying extra attention to burnt-on grease and grime
Disassemble and reassemble your oven completely
The best oven cleaning services in London
Competitive prices
Oven manufacturers advise homeowners to clean their oven once every 6 to 12 months, depending on how often they use it. This will keep the appliance sanitary and extend its durability, and it will also eliminate fire hazards from your property as well.
We are better than our competition in London because:
Each member of our team is a certified expert
We use non-toxic natural cleaning products only
We've trained each of our technicians to excel when they deliver our services
Our customer support team is knowledgeable and will answer all of your questions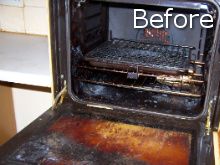 As you know, not cleaning your oven regularly poses a serious fire hazard. If uncleaned on time. burnt on grease that is accumulated on your oven's walls will make the appliance smoke every time you use it. Should you keep neglecting the oven, the continuously burning grease is highly likely to lead to a domestic fire; and that is by no means something you would like to happen.
Okay, now you know that it is essential that your rely on our professional help at least once a year. In the meantime, however, how can you ensure the good condition of your oven?
Oven Cleaning Services
Single Oven (60cm)

£

45

Double Oven

£

63

Hob
from

£

15

Extractor
from

£

15

Microwave

£

20

Combination Microwave Ovens

£

25

Shelves & Racks (each)

£

2

Trays (each)

£

2.5

BBQ racks (each)

£

3

Range
from

£

90

Aga
from

£

105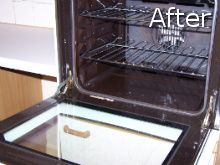 Remember that what you can do with market-bought products is not even half as good as what can professionals do. As we mentioned, there are areas in the oven which can be reached by professionals only. That said, you can still contribute to the immaculately clean condition of your oven. Below is a
list of tips on the matter, gathered by our qualified personnel.
However, you can still contribute to the cleanliness of your oven.
1. You can use your oven's self-cleaning option. If your oven is less than 40 years old, it is very likely that the appliance has a self-cleaning option. The self-cleaning option is the ideal solution if your oven is not very dirty and you do not have the time to clean it manually.
2. For your own safety – opt to natural cleaning products. Market-bought oven cleaners are not only super expensive – they often leave toxic chemical residue on surfaces, which could permeate into your meals. Instead, you can use baking soda and white distilled vinegar to clean your oven – they are just as effective.
3. Remember that timely maintenance is pivotal. Wipe greasy stains on time. Timely cleaning will not only save you a lot of effort in the long run, it will definitely help you extend the durability of the appliance.
FAQ
Who should I turn to if I have questions concerning the company?
– You can contact our friendly customer support team at your convenience. Our customer support team will answer all of your questions thoroughly.
Can I book you for short-notice cleaning services?
– Yes, City Cleaners London are available for short-notice services.
I don't like being made to wait. How can I be sure that your technician will come on time?
– All of our technicians are familiar with London and we guarantee that they will come on time.